The page says that Bigfoot 16 was built in 2007, but that Bigfoot 17 was built in 2003. I don't think that's right, because that would mean that they built 17 and then 16 afterwards (4 years later). If that really is right, feel free to inform me of such, but that sounds strange how 17 came before 16. -Thelennylegoshow.
I found this picture of a Bigfoot Monster Truck tank. Does it have a page at all? Thelennyleggoshow.'
Indeed it does, infact, it uses the same picture. It's called Bigfoot Fastrax. -Toon
It might seem like a silly question, but do you think Bigfoot should come back to Monster Jam for the 25th anniversary? I do know about the whole controversy back in the day, which was related to sponsorship and stuff like that, but think about it, why won't Bigfoot 4x4 just run independently in Monster Jam? I know it will most likely never happen, but I'm just being curious... -CarBitGTSaxen
When is Bigfoot #22 set to be completed?Bringbackcrushcars (talk) 13:31, August 5, 2017 (UTC)
This page needs MAJOR updates.--Live2018MonsterJamLive2018 (talk) 04:00, December 16, 2018 (UTC)
Can we get clarification on the 2007 events? What is meant by Bigfoot is sold? Is it meant as a company or an individual chassis?Bringbackcrushcars (talk) 17:01, March 13, 2019 (UTC)
Lol, I didn't do much to change it because I care less then a rat's ass about researching bigfoot's history. ToonRaiderStudios (talk)
I wonder exactly when the last time Bigfoot and Grave digger raced each other. Twaighlight Zone (talk) 19:04, April 2, 2019 (UTC)
Bigfoot at Monster Jam in the early 2000s?
Anyone have footage of this or know what in the heck this was about?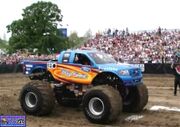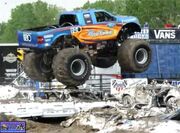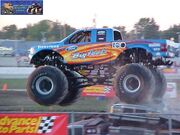 CowboyGeneral
(
talk
) 03:42, May 11, 2019 (UTC)
Are you sure that it's Monster Jam and not some random indie shows? Duncan76disturbed (talk)
USHRA has been part of certain events like Red Bluff and other events that arent Monster Jam events, but feature Monster Jam trucks. These arent Monster Jam events, nor are they USHRA events, but events USHRA participated in running. ToonRaiderStudios (talk) 03:48, May 11, 2019 (UTC)
Look closely at the middle picture. There is a USHRA logo. I also saw something on Truckworld.com on the Wayback Machine. I'll look for it and share the link if I find it. I heard t was something to do with Ford's 100th Anniversary.? https://web.archive.org/web/20030724112025/http://www.truckworld.com/Monster-Trucks/Monsters-Monthly/news-01.html & https://web.archive.org/web/20030802005335/http://bigfoot4x4.com/ford.html & https://web.archive.org/web/20031005030814/http://www.truckworld.com/Monster-Trucks/Monsters-Monthly/2003-july/news.html
Yes, refer back to my response where I said "USHRA helped run the events, although it was not Monster Jam."  ToonRaiderStudios (talk) 04:21, May 11, 2019 (UTC)