Ryan Albin



Name

Ryan Albin

Date of Birth

August 28, 2000

Nickname

MonsterJamOCD
Ryan Albin, also known as MonsterJamOCD, is a YouTube personality and one of the two Spin Master Monster Jam brand influencers.
He began working in partnership with the toy company Spin Master and Monster Jam in December 2018. His official role, as he states, is to be to mediator between the community and the companies as well to promote and influence the brand.
Life Before Spin Master
Ryan began collecting Hot Wheels Monster Jam die-cast vehicles in 2006 after attending his first show in Anaheim, CA. His YouTube channel was started by his parents in 2010 and has become the epicenter for "before-the-shelf" reviews of the Spin Master products in the modern age of collecting. His Instagram has also become a central hub of new information for all die-cast company releases.
He claims that it was "an accidental miracle" that Monster Jam became a part of his life after receiving a Grave Digger toy for his 6th birthday.
Ryan officially began making his own reviews in 2012 but became more of an influence in the community in 2015. Between the years 2015-2018 he would heavily criticize Hot Wheels for inaccuracies on their Monster Jam vehicles.
He launched his own die-cast customs account, OCD Customs, in 2014 which is still active to this day.
Spin Master Partnership
In August 2018, Ryan was approached by Spin Master for potential collaborations after they watched his video on the upcoming product line. At the time, Spin Master was under extreme scrutiny by the Monster Jam community due to the bitterness from most collectors at the time because of the sudden termination of the 18-year-long Hot Wheels and Monster Jam contract.
He was originally an advocate for Mattel to stay as the master toy contractor, but after seeing the prototypes he was convinced that Spin Master had serious potential. He received his first products for review in December 2018 and has been working as the sole before-the-shelf reviewer since then.
During Christmas 2019, he co-hosted a 12 Days of Christmas giveaway with Spin Master where, over the span of 12 days, he gave away rare merchandise including the toy fair 1 of 1,000 Grave Digger die-cast trucks. He also has given over 40 others away at events and random act of kindness shipments. At the beginning of his partnership, he was criticized heavily for the specific distribution of the toy fair trucks to close friends.
OCD Meltdown
OCD Meltdown is Monster Jam's first fan-inspired truck design. The original concept was designed by Ryan's friend, Taylor Andes, and is a professional rebrand of the name that Ryan and his father coined back in 2015. The truck is set for sale on April 16, 2021 and will be exclusive to the Monster Jam Superstore. It is limited edition 1 of 5,000 units produced.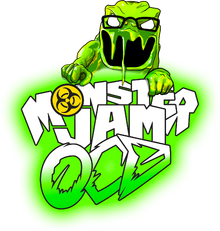 Event History
Ryan was one of the attendees of the Monster Jam World Finals 18 Hot Wheels Influencer Event, where he met several Hot Wheels designers. He claims that this event was one of the eye-opening experiences that led to his heavy criticism of Hot Wheels after the contract ended. He met Brian Patton at this event, who later retired from collecting and allowed Ryan to take over the management of his website.
Monster Jam World Finals XX in May 2019 was the first event that he openly welcomed the opportunity for meet and greets with fellow collectors and fans.
At the Monster Jam All-Star Challenge in October 2019, he aided in bringing about the Inaugural Influencer Event so that collectors and fans could meet the teams from both Spin Master and Monster Jam. This event has now become an annual tradition that focuses around the influencers for the brand.
In January and February 2020, Ryan attended 4 of the 5 Anaheim shows. He met with many fans and friends over the span the events. During the VIP Pit Party on February 22, he debuted his infamous custom MonsterJamOCD crew shirt and signed autographs with Camden Murphy under the Bakugan Dragonoid tent.
At Camping World Stadium in Orlando, FL on February 27, 2021, Ryan announced that OCD Meltdown would be released in April of 2021. This was the first formal announcement of the truck to the Monster Jam community.
Trivia
The name "OCD" is said to have come from his parents who called him the acronym as a child due to his obsession with collecting, categorizing and organizing his Hot Wheels Monster Jam trucks.
One of his main obsessions with collecting is said to be based around the 2003 Inferno prototype, which he claims is his holy grail. He lost the Inferno to Brian Patton in 2015 during an eBay auction.
Community content is available under
CC-BY-SA
unless otherwise noted.