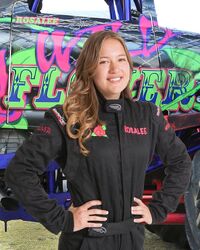 Rosalee Ramer (born June 10, 1997) is a driver out of Watsonville, California and is the daughter of Kelvin Ramer, the driver of Time Flys. Rosalee is best known for driving Wild Flower. Rosalee began driving at the age of 14, and has been competing along the West Coast and has garnered media attention including an appearance on the Ellen DeGenneres show in 2014 driving Detour. She made her Monster Jam debut in late 2015. In 2017, she made her first World Finals appearance at Monster Jam World Finals 18 during which she became the first female driver to attempt a corkscrew. In 2018, she won the Extreme Air award, ending Jim Koehler's 7-straight year winning streak with the award.
World Finals appearances
2016 - Wild Flower (DDS)
2017 - Wild Flower
2018 - Wild Flower
2019 - Wild Flower (Racing & Freestyle and High jump)
Gallery
Community content is available under
CC-BY-SA
unless otherwise noted.