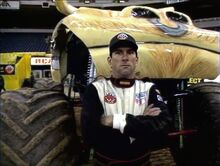 Rob Knell is a driver on the Monster Jam circuit. He is the cousin of Tom Meents. He has driven NWO, Bulldozer, and Hot Wheels.
History
Rob Knell debuted in 2000 as the driver of Bulldozer for Team Meents. Then, at the New Orleans Superdome, he won racing as the mystery driver of the New World Order (nWo) truck. He also got one of the top three scores for his freestyle performance at the World Finals that year. It wasn't until an article on USHRA.com was he revealed as the driver of the NWO truck.
Following the 2000 season, the nWo truck was discontinued and he went back to driving Bulldozer.
In 2004, for the encore show at the World Finals the crowd watched tandem freestyle runs by first two Built Ford Tough Blue Thunder monster trucks, then two Maximum Destruction monster trucks, and finally, two Grave Digger monster trucks; however, despite bringing a second Bulldozer, he was missed in the encore, most likely due to the fact that the first Bulldozer was too heavily damaged to join.
2004 Red Bluff Incident
In 2004, at the West Coast Monster Truck Nationals in Red Bluff California, Rob Knell was critically injured during a qualifying pass, driving El Toro Loco on a Meents. During the pass, the converter in his truck caused the transmission to explode, sending debris into fuel lines, and causing a massive explosion. The truck was completely engulfed in a raging fire as Rob Knell tried to get out for minutes. The fire was eventually quenched, and Rob was rescued from the truck, and airlifted to the Hospital. He was in critical condition, suffering 2nd degree burns over his body, a broken elbow, and several broken fingers.
He would eventually return in 2006-2007, but would not return after this.