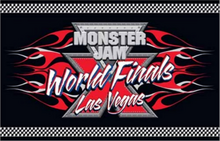 Monster Jam World Finals X (Also written as Monster Jam World Finals 10) was the tenth-annual Monster Jam World Finals, held on March 27-28, 2009 at Sam Boyd Stadium in Las Vegas, Nevada. This event featured a twenty-four truck lineup, and was broadcasted on Speed Channel after the event took place.
Tom Meents in Maximum Destruction earned his eighth World Championship by defeating Alex Blackwell in Captain's Curse in Racing. Meanwhile, in his third full season of competition, Damon Bradshaw in U.S. Air Force Afterburner won the World Freestyle Championship with a score of 36.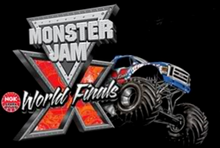 Lineup
(Note: * indicates a truck/driver's first World Finals appearance).
(Note: ** indicates a truck/driver's only World Finals appearance).
(Note: *** indicates a truck/driver's last World Finals appearance).
Track Layout
The track used for World Finals X featured a van stack with a car pad in the formation of an "X" shape, as well as a camper in the far end zone. The left side of the track featured a triple jump, along with a Jack in the Box-sponsored graffiti box van. The center of the track featured a step-up jump, which was later used as a backflip ramp for an encore. The right side featured a double-valley jump with a fountain jump in front of it.
Special World Finals Paint Schemes
The paint scheme that was featured on Avenger this year was a special "Scuba" paint scheme, which was created to honor driver Jim Koehler's famous act of jumping into the fountain obstacle after his freestyle performance. Meanwhile, this event marked the first official appearance of Nitro Circus, which made its debut during the freestyle competition with Travis Pastrana behind the wheel.
Two other special trucks and designs that made their first appearances were featured exclusively in the Pit Party. The first was Obsessed, which made its official debut as the new teammate to Rick Swanson's Obsession. Meanwhile, Kelvin Ramer's Time Flys received a new black paint scheme, which was first used exclusively for this event.
Results
Qualifying Times
Donkey Kong - 16.50
Bounty Hunter - 16.53
Taz - 16.56
Teenage Mutant Ninja Turtles - 16.56
Maximum Destruction - 16.63
Monster Mutt - 16.66
Blue Thunder - 16.90
Safe Auto Minimizer - 16.94
Pastrana 199 - 16.97
El Toro Loco - 17.00
An Escalade - 17.07
Air Force Afterburner - 17.13
Brutus - 17.25
Captain's Curse - 17.28
Monster Mutt Dalmatian - 17.35
Madusa - 17.37
Superman - 17.40
Batman - 17.65
King Krunch - 17.65
Grave Digger - 17.66
Avenger - 17.66
Destroyer - 17.72
War Wizard - 18.15
Stone Crusher - DNQ
Racing
Round One
Madusa vs. Stone Crusher
Pastrana 199 vs. Superman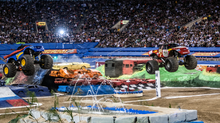 Grave Digger vs. Air Force Afterburner
Avenger vs. Brutus
Destroyer vs. Captain's Curse
An Escalade vs. King Krunch
El Toro Loco vs. Batman
Monster Mutt Dalmatian vs. War Wizard
Round Two
Donkey Kong vs. Madusa
Safe Auto Minimizer vs. Pastrana 199
Maximum Destruction vs. Air Force Afterburner
Teenage Mutant Ninja Turtles vs. Brutus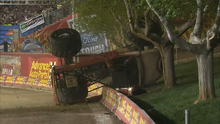 Captain's Curse vs. Taz (crashed)
Monster Mutt vs. An Escalade
Blue Thunder vs. El Toro Loco
Bounty Hunter vs. War Wizard
Round Three
Madusa vs. Safe Auto Minimizer
Maximum Destruction vs. Brutus
Captain's Curse vs. Monster Mutt
Blue Thunder vs. Bounty Hunter
Semi-Finals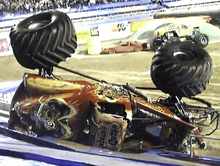 Safe Auto Minimizer vs. Maximum Destruction
Captain's Curse vs. Blue Thunder
Championship Race
Maximum Destruction vs. Captain's Curse (crashed)
Freestyle Order
Brutus
Madusa
War Wizard
Nitro Circus
Monster Mutt Dalmatian
Destroyer
Superman
Bounty Hunter
King Krunch
Batman
Avenger
Teenage Mutant Ninja Turtle
An Escalade
Air Force Afterburner
Stone Crusher
Safe Auto Minimizer
Donkey Kong
Taz
Monster Mutt
El Toro Loco
Blue Thunder
Maximum Destruction
Grave Digger
Freestyle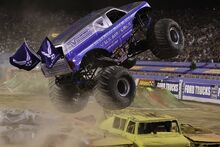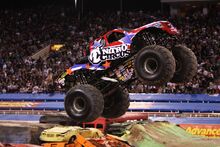 Air Force Afterburner - 36
Bounty Hunter - 32
Brutus - 29
Blue Thunder - 28
Nitro Circus - 26
Stone Crusher - 26
Monster Mutt - 26
Taz - 25
Monster Mutt Dalmatian - 24
King Krunch - 23
Grave Digger - 23
Batman - 21
Donkey Kong - 21
El Toro Loco - 21
War Wizard - 19
Maximum Destruction - 19
Destroyer - 17
Teenage Mutant Ninja Turtles - 17
Madusa - 16
Safe Auto Minimizer - 13
Superman - 8
An Escalade - 8
Avenger - 4
Captain's Curse - DNC
Encore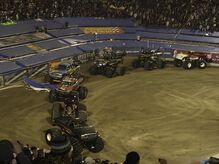 After the freestyle competition, the car stack would be removed from the back of the middle ramp, revealing a backflip ramp. Tom Meents in Maximum Destruction would then come onto the track and attempt a backflip. While he would make a successful rotation, he would also make half of a second rotation, causing the truck the land hard on its rear and eventually crash-land on its roof. The pit party trucks would later come onto track and lap around it before the show came to close.
While the backflip portion of the encore was shown on the SPEED broadcast, the pit party trucks portion of the encore was notably never shown on neither the DVD or the SPEED broadcast for unknown reasons. Although not being shown, some driver interviews played during the freestyle DVD took place before or after the pit party encore, revealing some footage of it.
Other Awards
Donut – Tom Meents - Maximum Destruction - Pensacola
Rising Star – Jon Zimmer - Amsoil Shock Therapy
Arena Wheelie – Dave Rappach - Rap Attack - Milwaukee
Extreme Air – Frank Krmel - Donkey Kong - Arnhem
Stadium Wheelie – Dennis Anderson - Grave Digger - Toronto
Save – Steve Koehler - Wrecking Crew - Worcester / Andy Slifko - Eradicator - Atlanta
Humanitarian – Charles Benns - Pitbull
Fan Appreciation – Alex Blackwell / Rod Schmidt
Arena Freestyle – Charlie Pauken - Grave Digger - Stockholm
Sportsman – Jim Koehler
Crash Madness – Charlie Pauken - An Escalade - Saluda
Stadium Freestyle – Dennis Anderson - Grave Digger - Houston
WOW Factor – Tom Meents - Maximum Destruction - Houston
Team – Monster Trucks Ltd (Sims)
Rookie – Jeremy Slifko - Backdraft
Mechanic – Howie Daulton - Team Grave Digger and Team Captain's Curse
Trivia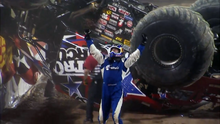 Captain's Curse, Nitro Circus, and Grave Digger all crashed into the stands during the course of the event (Captain's Curse flipped violently into the stands after losing brakes in the finals, and Nitro Circus and Grave Digger both rolled onto the wall during freestyle). Captain's Curse's racing crash was omitted from the vast majority of TV broadcasts and from the DVD; Nitro Circus's and Grave Digger's crashes were only shown through onboard footage.
This would be the first Monster Jam World Finals DVD to be at 720p and HD quality. However, the DVD was still limited to a 4:3 ratio. Because of this, the DVD was very infamous for its fullscreen footage being squeezed into a square ratio, giving the trucks a weird tall and narrow look.

Monster Jam WF X Intro video (by Mike Mcfarlin)

The opening movie that is seen at the start of each World Finals X DVD's was actually played at the actual event before the opening ceremony. The live opening movie, however, featured different music from the DVD version. The first half of the intro with the drivers featured the opening segment of the Intro to Within Force's album "The Silent Force", where the DVD version featured suspenseful with driver quotes. The second half of the intro with trucks and fans featured a shortened version of "Chain Links" from Saw 3, where the DVD version replaces it with an energetic rock tune, interestingly made to sync and mix with truck and fan noises well. These music changed were likely done because of copyright reasons.
The fastest qualifier was Frank Krmel in Donkey Kong, with a 16.50 second lap.

The was also the second year that the faster qualifier would lose in their first race of the night.

The two trucks that sponsored each of the two racing lanes would go against each other in racing, however, they would ironically be put in opposite lanes, with the Built Ford Tough sponsored Blue Thunder being in the Advance Auto Parts lane, and the Advance Auto Parts sponsored El Toro Loco being in the Ford Trucks lane.
Alex Blackwell became the second World Finals competitor to make the final round of racing and miss the freestyle competition due to a crash, joining Blue Thunder's Lyle Hancock (Monster Jam World Finals 2).
Adam Anderson became the second reigning World Finals champion who was unable to defend their respective title the following year due to an injury sustained in racing. He joined Pablo Huffaker on that list.
This would be the very last show for Safe Auto Minimizer and Pastrana 199.
Tom Meents blew the transmission during his World Finals freestyle run for the second time, the first since Monster Jam World Finals 4.
Adam Anderson was injured after crashing into a tree in Thunder Alley during racing. Later, his substitute in Taz, Chad Tingler, suffered a dislocated shoulder after a hard hit in freestyle.
This would be the only World Finals competition appearance of Randy Moore and War Wizard.
Originally, the triple jump on the left side of the track was a double jump with a disconnected jump stack. After the photos were taken, the disconnected jump was melded into the double on the last day to change it into a triple stack.
Very interestingly, especially considering how popular clearing the tripe was the previous year, Linsey Weenk was the only driver to have actually backed up from the front of the triple and attempt send it and clear the triple. He came up a bit short of fully clearing the ramp.

Although Linsey Weenk was the only driver to back up from the front of triple to attempt and clear it, Chad Tingler in Taz also attempted to clear the triple. However, he didn't back up for the triple and he also sent it from the backside of the triple instead, flooring the throttle while driving onto the ramp after getting shut off for a moment during the run. He would come closer than Linsey, though not fully clearing it, hitting the front bus of the triple.

This would be the last freestyle appearance for King Krunch. He returned the following year, but could not freestyle due to a crash in racing.
The bark split open on the tree Taz collided with. The tree survived the incident, but was removed several years later.
During Friday practice, Stone Crusher clipped the triple jump and rolled completely over and back upright.
This was the second of three World Finals where the fastest qualifier (Donkey Kong) lost in its first race.
Like the previous two years, the field was almost identical, but this time four trucks were replaced (Iron Outlaw, Scarlet Bandit, Black Stallion and Team Suzuki). Brutus, Madusa, Teenage Mutant Ninja Turtle and War Wizard were the replacements

Only War Wizard was the new truck to the event as Brutus and Teenage Mutant Ninja Turtle had been absent for a year, both previously competing in three previous World Finals each and Madusa returning after having competed in all of the first 6 World Finals.

This would be the second year in a row where the World Racing Champion would defeat the World Freestyle Champion on the way to their championship.
This would be first freestyle run from Pablo Huffaker since 2003 where it wasn't the middle ramp that took him out. Although he did hit the middle ramp before going over, it was the white double valley ramp that sent him over.

It would also be the first run from Pablo since 2004 where he didn't go over because of driving though the left side of the middle ramp.

This World Finals was notably the only one to have changed multiple of the trucks theme songs, being Bounty Hunter: "The Enemy" by Godsmack, Destroyer: "Free" by Powerman 5000, El Toro Loco: "Gimme the Mic" by Limp Bizkit, Nitro Circus: "Inside the Cynic" by Stone Sour, War Wizard: "Awake" by Godsmack and Monster Mutt sharing Monster Mutt Dalmatian's Theme.
Pit Party (Non-Competing trucks)