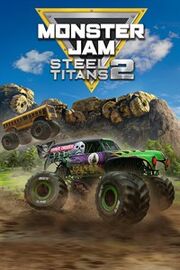 Monster Jam Steel Titans 2 is a video game developed by Rainbow Studios and published by THQ Nordic. The game is available for the PC, PS4, Xbox One, and Nintendo Switch. The game is also able to be played on the Xbox Series X/S consoles via backwards compatibility with upgraded visuals. The game acts as a sequel to the previous game Monster Jam Steel Titans. The game features 38 playable trucks.
The game was released on March 2, 2021.

Trucks
DLC Trucks
Power-up Buffs
There are 6 different types of trucks in the game, each type of which comes with its own unique ability:
Only the Destruction Crew & Crazy Creatures trucks' abilities are capable of being used in Stadium Events.
Worlds
There are 5 Worlds in the game, which are accessed via the in-game world:
Camp Crushmore (unlocked at the beginning)
Bark Park (intended to be unlocked after completing Chapter 4, but can be accessed at the beginning)
Highlands (unlocked after completing Chapter 8)
Wasteland (unlocked after completing Chapter 12)
Haunted Forest (unlocked after completing Chapter 16) [Completing Chapter 20 will unlock a path back to Camp Crushmore from Haunted Forest]
Modes
There are 7 different modes in Monster Jam Steel Titans 2, those being:
Stadiums and Arenas
[1] Vivint Arena (Salt Lake City, Utah) (two separate tracks)
[2] Mohegan Sun Arena at Casey Plaza (Wilkes-Barre, Pennsylvania) (two separate tracks)
[3] Ball Arena (Denver, Colorado)
[4] Intrust Bank Arena (Wichita, Kansas) (two separate tracks)
[5] Moda Center (Portland, Oregon) (two separate tracks)
[6] Greensboro Coliseum Complex (Greensboro, North Carolina)
[7] Angel Stadium (Anaheim, California) (two separate tracks)
[8] Sam Boyd Stadium (Las Vegas, Nevada) (based off of World Finals 19)
[9] State Farm Stadium (Glendale, Arizona) (two separate tracks)
[10] Mercedes-Benz Stadium (Atlanta, Georgia)
[11] RingCentral Coliseum (Oakland, California)
[12] Petco Park (San Diego, California) (two separate tracks)
[13] Rogers Centre (Toronto, Canada)
[14] Lucas Oil Stadium (Indianapolis, Indiana)
[15] Ford Field (Detroit, Michigan) (two separate tracks)
[16] AT&T Stadium (Arlington, Texas)
[17] Camping World Stadium (Orlando, Florida) (based off of World Finals 20)
Similar to the original game, stadiums and arenas won't have the official names, but rather be referred to by the city from which they're located.
Trivia
This video game marks the first appearance of Backwards Bob and Jurassic Attack since 2010's Monster Jam: Path of Destruction. It is also the first to feature Avenger, Monster Mutt Junkyard Dog and Stone Crusher since 2016's Monster Jam Crush It!
The game features 4 of the non-existing Spin Master toys. That being Monster Mutt Husky, Monster Mutt Poodle, Octon8er, and Sparkle Smash.
This marks the video game debut of Crushstation, Gas Monkey Garage, Higher Education (and the Inverse edition), Ice Cream Man, Monster Jam Stunt Truck, Monster Mutt Husky, Monster Mutt Poodle, Octon8er, and Sparkle Smash.
This is the first Monster Jam game to feature non existing non-DLC trucks, not counting the original Steel Titans game, as Yeti and Wildfire were DLCs.
The game's trailer revealed one of the playable tracks to be the World Finals 20 track in Orlando.
There are two versions of this game. A standard release and the Power Out Bundle, which includes this game, Monster Jam Steel Titans, and all of its original DLC.

Higher Education Inverse will be exclusive to the Power Out bundle copy.

Backwards Bob is the only truck that has the tires that faces backwards instead of forwards.
Like the previous game, Monster Jam Steel Titans, Grave Digger the Legend is the only truck outfitted with the zoomies.
On the PS4 version, Chassis is misspelled as "Chasis", and when Soldier Fortune levels up, it is listed as "Soldier of Fortune".

This was partially fixed on Update 1.03, released on March 12, 2021, for PC and PS4, as THQ Nordic plans to release the update for Xbox One and Nintendo Switch in the following week. Chassis is still misspelled after you complete an event, but when changing your vehicle, the error has been resolved.

At the Anaheim 1 track, the jumbotron on the southern edge of the stadium has Oakland Baseball visuals on the sides instead of monster truck flag banners. Oakland is 400 miles northwest of Anaheim, making this graphic unusual.

Even stranger is that the Anaheim 2 track has monster truck flag banners on the jumbotron.
Gallery
Community content is available under
CC-BY-SA
unless otherwise noted.