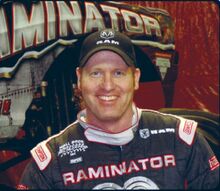 Mark Hall is a driver out of Champaign, Illinois who is best known for driving the monster truck Raminator and Executioner. Hall has more championships than any singular driver in monster truck history with a total of 23.
History
In 1991, Mark and his brother Tim formed Hall Brothers racing and began with the tank Heavy Metal. Later that year they built Big Boss, a leafspring Ford monster truck, both vehicles were sponsored by Kyosho. It wouldn't be until 1993 that Hall would unveil the iconic Executioner truck, after a short stint in 1992 running USA-1 on the new chassis.
In 2001, Hall won his first championship with Family Events, the beginning of a dominating grip on the series that has extended to this day. In 2002, with a sponsorship by Dodge, Mark unveiled the Raminator truck, his most successful machine and most well known, including several team trucks. Hall would continue his dominating success and in 2014 set a speed record in a monster truck in Austin, Texas going at 99 mph.
Accomplishments
2003-2004 Monster Truck Nationals Champion
2005-2007 Monster Truck Nationals Racing Champion
2005 Monster Truck Nationals Freestyle Champion
2013-2014 Monster Truck Nationals Racing Champion
2013-2014 Monster Truck Nationals Freestyle Champion
Record holder for fastest speed in a monster truck (99 MPH)
Gallery