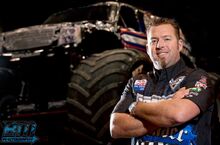 Linsey Weenk is a monster truck driver out of Plenty, Saskatchewan, Canada who resides in Denair, California. He drives the
Lucas Oil Crusader
truck. He debuted in
Jurassic Attack
, shortly moving to
Iron Outlaw
,
Blue Thunder
, and finally Lucas Oil Crusader, which he has driven since 2011.
History
From 2000 to 2005, Linsey shared Jurrasic Attack with his brother, Kevin Weenk. Coincidently, when Linsey Weenk left the Jurrasic Attack team in 2005, his younger brother, Nathan Weenk, became the new driver.
In 2006, Linsey Weenk drove Iron Outlaw, which was Scarlet Bandit until 2006 when Dawn Creten was pregnant. He had a seven-race winning streak in 2006 and made it to the World Finals two years in a row.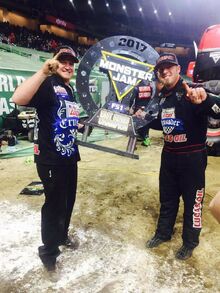 In summer of 2007, Weenk joined the Built Ford Tough Blue Thunder team. He continued his racing success and has made it to every World Finals until 2010. He also has a rivalry with brother and El Toro Loco driver Nathan Weenk.
In 2011, Linsey Weenk debuted the Lucas Oil Crusader while Todd LeDuc took over Blue Thunder. Linsey won racing in Baltimore and Cincinnati. Linsey also drove the Traxxas E-Maxx in Europe.
In 2013, Linsey Weenk drove the Zombie monster truck in Mexico.
In 2015, Linsey Weenk drove Zombie again in Salinas, California.
In 2015 and 2016 he would drive in the Fox Sports 1 Championship.
In 2017 he competed in the FS1 East Series and won the series.
In 2018 and in 2019 he competed on stadium tour 3 in both years.
World Finals Appearances
2006 - Iron Outlaw
2007 - Iron Outlaw
2008 - Blue Thunder
2009 - Blue Thunder
2010 - Blue Thunder
2011 - Lucas Oil Crusader
2012 - Lucas Oil Crusader
2013 - Lucas Oil Crusader
2014 - Lucas Oil Crusader
2015 - Lucas Oil Crusader
2016 - Lucas Oil Crusader
2017 - Lucas Oil Crusader
2018 - Lucas Oil Crusader