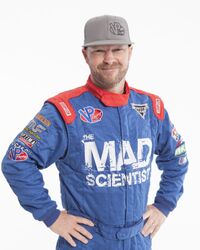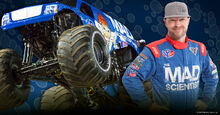 Lee O'Donnell was the driver of Mad Scientist. Lee first began his career in CORR and Stadium Off Road Racing for many years (and still does to this day) before starting his Monster Jam career in 1999. He began driving Spider-Man on several occasions in 2001. Not until 2006 did he began his full career first by driving Monster Mutt, then Taz in 2007 for filling in for Adam Anderson and winning racing in Orlando. In 2008 filling in for Linsey Weenk he won racing at the Georgia Dome driving Blue Thunder. That same year he also drove a second Team Suzuki. In 2010 he debuted the Iron Man truck which he drove until late 2014, when he would begin to drive Zombie Hunter, where he was the first driver to perform a barrel roll in a monster truck. In 2016 he moved to the VP Racing Fuel Mad Scientist. In 2017, he won the Freestyle Championship in the Monster Jam World Finals 18 where became the first driver to successfully land a front flip in competition in a monster truck. On March 4, 2018, O'Donnell won first in Stadium Championship Series 4, giving him an automatic invite to compete in Mad Scientist in the Monster Jam World Finals 19. In late 2018, Lee retired from driving.
Trivia
He was the first driver to perform a barrel roll and a front-flip. Both at the World Finals.
Prior to getting a full-time ride in Iron Man, Scott Douglass called O'Donnell "The best fill-in driver in the sport."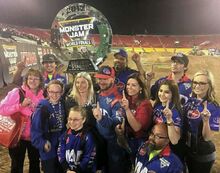 World Finals Appearances
2010 - Iron Man
2011 - Iron Man
2012 - Iron Man
2013 - Iron Man
2014 - Iron Man
2015 - Zombie Hunter
2016 - VP Racing Fuels' Mad Scientist
2017 - VP Racing Fuels' Mad Scientist (freestyle champion/front-flip)
2018 - VP Racing Fuels' Mad Scientist