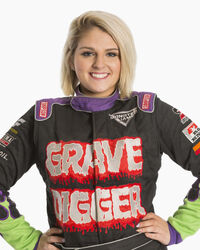 Krysten Anderson is a driver out of Currituck, North Carolina who drives Grave Digger since 2017. She is the daughter of Dennis Anderson and the sister of Adam, Ryan, and Weston Anderson. In 2020, she broke the World Record for the highest leap in a Monster Truck at 33 ft, 9.6 in. In 2021, she made her Stadium Tour debut at Houston on January 30. In 2022, she would win Arena Championship Series Central, becoming the first (and so far only) woman ever to win a championship series in Monster Jam.
World Finals Appearances
2017 - Grave Digger (DDS)
2018 - Grave Digger (DDS)
2019 - Grave Digger (DDS)
2022 - Grave Digger (Main + High Jump)
All-Star Challenge Appearances
2019 - Grave Digger (Team Ice)
Trivia
Krysten is the first female to compete as a driver of Grave Digger.
Krysten is the third female Grave Digger driver, behind Madusa (Driver) and Heather Williams, but the first full time driver a Grave Digger.
Gallery