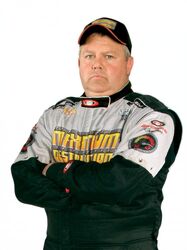 Kreg Christensen is a monster truck driver from Willard, Utah currently driving Dragon Slayer. He has driven trucks like Max-D, Iron Outlaw, Wicked and Donkey Kong. He is also the founder and the creator of Team KCM.
He formed Team KCM in 1995 when he built the team's first truck Dragon Slayer which he would drive until 2008. From 1995 to 2008, the team built several other trucks which was mostly driven by the Christensens. In 2008, Kreg was hired to drive 2Xtreme Racing's Iron Outlaw. From that point on, Team KCM went on a several year hiatus. Then in 2009, he got hired by Tom Meents, the owner of Max-D, to fill in for Neil Elliott. For 2010 he drove Donkey Kong up to it's retirement on the same year. He went back to driving Maximum Destruction in 2011 as a full time driver.
In 2012 however, Team KCM was revived after Wicked, the first truck of the team since the retirement of Dragon Slayer in 2008, was debuted. The truck exclusively ran in Australia as Kreg was still running Max-D in the US. In 2014, he left Monster Jam to drive Wicked full time (still in Australia). Morgan Kane replaced him in driving Max-D.
Years after the debut of Wicked, more trucks were added to the fleet such as American Soldier and Vendetta which helped Team KCM's return.
In 2017, he resurrected Dragon Slayer and continues to drive the truck to this day, though he still drives Wicked in Australia.
Among the Australian trucks he's driven, his most notable ones are Raptor's Rampage and the aforementioned Wicked, which he imported Stateside and helped bring back Team KCM.
Throughout his career, he has recruited several members from the Christensen family to drive for Team KCM and the Australian teams he's worked with. These drivers include Julie Christensen (wife), Paul Jensen (step son), Brian Christensen (son), Mike Christensen (son), Kasey Christensen (son) and O.D. Christensen.