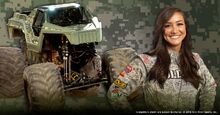 Jackie Carrizosa is a fitness guru and brief Monster Jam driver out of Phoenix, Arizona. She was scheduled to drive Soldier Fortune in the 2019 Monster Jam Triple Threat Series Central Tour, but was let go from FELD Entertainment on November 15, 2018 due to her involvement in a WorldStarHipHop video that conflicted with the tour's values. She was replaced by Kayla Blood two weeks later after she was fired from FELD.
Here's a link to Jackie's announcement concerning her release.
https://www.instagram.com/p/BqNgyB2HI2b/
Trivia
Jackie, along with Chad Reed, is one of the shortest-employed Monster Jam drivers, having been employed for 3 days, whilst Chad left Monster Jam immediately after he debuted due to family emergencies.