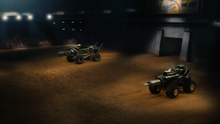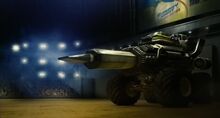 Idiocracy was a series of three trucks that were designed for the 2006 movie of the same name. In order of introduction, they were called "Dildozer" and "Ass Blaster" in the movie. Dildozer on the Tuff E'Nuff chassis, and Ass Blaster was run on the Cyborg chassis. As shown on the image, the trucks have a frontal extension used as a phallic symbol. Both trucks were heavily altered with Computer Graphics, and neither truck actually ran these bodies.
A third truck, called the "Ass Dozer", was also mentioned in the same scene. The most seen from the third vehicle is the phallic extension and both the front wheels that collide against the concrete wall, and is then buried under the rocks.
Community content is available under
CC-BY-SA
unless otherwise noted.