Hot Wheels Monster Trucks Live is a tour produced by Raycom-Legacy Content Co., a joint venture of Raycom Sports and Legacy Motorsports Events, and Mattel. The first event was held in January 2019.
It is a 6 truck tour, similar to the Monster Jam arena lineups used in smaller spaces in the second half of the 2018 season. Originally, there was supposed to be 20 stops on the tour, 12 have completed for first quarter and another 10 were announced for the remainder of 2019.
Details
The shows are run in the old "concrete floor track" style, similar to Thunder Nationals. The events are hosted by Tommy Kane (Edinburg anc Hoffman Estates only), Ken Navitsky, and Freddie Sheppard - with Ken and Freddie acting as comic relief for the shows. Before the show, a "Crash Zone" is held, allowing fans to get up close to the drivers and trucks.
Each show consists of 5 different competitions. A Donut Competition, Wheelie Competition, Long Jump Competition, Racing Competition and a Freestyle Competition. After each event, a "Titan Cup Champion" is crowned. The Titan Cup Champion is simply the events overall champion.
Competitors
"Motor-Vations"
Bone Shaker - "To Always Leave 'Em Rattled!"
Tiger Shark - "To Shred 'Em Into Fish Sticks!"
V8 Bomber - "To Send the Other Trucks Flying!"
Bigfoot - "To Always Be Groundbreaking!"
Hot Wheels Racing #1 - "To Crash Fast & Crash Hard!"
Demo Derby- "To Turn 'Em Into a Total Wreck!"
Other Acts
Freestyle Motocross
Demolition Derby
World Record Attempts
Stops on the 2019 Tour
Announced
Jan. 5-6: Bert Ogden Arena - Edinburg, Texas
Jan. 12-13: Wolstein Center - Cleveland, Ohio
Jan. 18-19: Mississippi Coliseum - Jackson, Mississippi
Jan. 26-27: Sears Centre - Hoffman Estates, Illinois
Feb. 1-3: Show Me Center - Cape Girardeau, Missouri
Feb. 8-10: Grossinger Motors Arena - Bloomington, Illinois
Feb. 16: FedExForum - Memphis, Tennessee
Feb. 23: Civic Center - Albany, Georgia
Mar. 16: KFC Yum! Center - Louisville, Kentucky
Mar. 29-30: Norfolk Scope - Norfolk, Virginia
Apr. 6: Lawrence Joel Veterans Memorial Coliseum- Winston-Salem, North Carolina
Apr. 13: John Paul Jones Arena - Charlottesville, Virginia
Jul. 27-28: AT&T Center - San Antonio, Texas
Aug. 24-25: Bell MTS Place - Winnipeg, Manitoba
Sep. 7: Citizens Business Bank Arena - Ontario, California
Sep. 14: Veteran's Memorial Coliseum at Alliant Energy Center - Madison, Wisconsin
Sep. 21: Chesapeake Energy Arena - Oklahoma City, Oklahoma
Oct. 19: Times Union Center - Albany, New York
Nov. 2-3: Smoothie King Center - New Orleans, Louisiana
Nov. 9-10: Pechanga Arena - San Diego, California
Nov. 15-16: Dickies Arena - Ft. Worth, Texas
Titan Cup Champions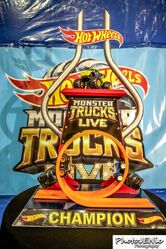 Edinburg
Show 1: Demo Derby
Show 2: Bigfoot
Show 3: Demo Derby
Cleveland
Show 1: Hot Wheels Racing #1
Show 2: Bigfoot
Show 3: Demo Derby
Jackson
Show 2: Demo Derby
Show 3: Demo Derby
Hoffman Estates
Show 1: Bigfoot
Show 2: V8 Bomber
Show 3: Demo Derby
Cape Girardeau
Show 1: Bigfoot
Show 2: V8 Bomber
Show 3: Demo Derby
Show 4: V8 Bomber
Bloomington
Show 1: Demo Derby
Show 2: Demo Derby
Show 3: Bigfoot
Show 4: Demo Derby
Memphis
Show 1: Demo Derby
Show 2: Bigfoot
Albany
Show 1: Bigfoot
Show 2: Demo Derby
Louisville
Show 1: Demo Derby
Show 2: Demo Derby
Norfolk
Show 1: Bigfoot
Show 2: Tiger Shark
Show 3: Demo Derby
Winston-Salem
Show 1: Hot Wheels Racing #1
Show 2: Bone Shaker
Charlottesville
Show 1: Demo Derby
Show 2: Tiger Shark
Trivia
Demo Derby features the same design and "statistics" as Town Hauler, but with a modified paint job. This was likely done as Town Hauler lacks a name, so it was renamed to Demo Derby to make it easier for audiences to identify.
In a promo, a blue Escalade body can be seen getting painted blue, hinting towards 32 Degrees joining the tour. This could also mean that, should the tour be successful, more trucks could appear on the tour.
Terminator officially has planned to tour with the series in the future. Which Hot Wheels truck though, is currently unknown.
Bob Chandler made an appearance during the Louisville shows.
Gallery