Grave Digger the Legend

Grave Digger the Legend circa 2015

Owner

FELD Motorsports and Anderson Boys Racing

Driver

Adam Anderson

Body Style

1951 Ford Panel Van

Engine

540ci Merlin

Transmission

Coan 2-Speed

Tires

66" Terra / BKT

Debuted

2011

Discontinuation

2015

Theme Song

'Bad Company' by Five Finger Death Punch (guitar solo only)
Grave Digger the Legend
was a custom Ford Panel monster truck driven by
Adam Anderson
. It was one of two new
Grave Digger
spin-off trucks for 2011, the second being the delayed
Son-uva Digger
, driven by his brother Ryan. Adam took this truck to 6
Monster Jam World Finals
' from 2011-2015, even winning two back to back racing championships in 2013 and 2014. The truck was put on hold in late 2015 after Adam moved to
Grave Digger
.
Monster Jam has stated that Grave Digger the Legend will in fact return; however, they are saving it for a specific driver, most likely referring to Weston Anderson. It will also likely get a new chassis, since the old one is now Grave Digger 32.
History
In 2010, it was announced that Grave Digger the Legend would debut in 2011 together with Son-uva Digger, driven by two of monster truck legend Dennis Anderson's sons, Adam and Ryan, respectively.
In 2011, Grave Digger the Legend debuted on the former Taz chassis. However its team truck Son-uva Digger was delayed after Ryan received an injury early in the year. As a fill in for the truck, a second Grave Digger The Legend was made with Tony Farrell driving. At the World Finals, Ryan then made his debut replacing Farrell's truck.
In 2013, Grave Digger the Legend won the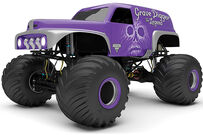 Monster Jam World Finals 14 racing championship. In the later part of the year, Monster Jam released a concept of a new design for Grave Digger the Legend for the 2014 season, changing its classic silver/blue design to a purple design with the Grave Digger ghost on the side. However, due to much protest from fans, including from Adam himself, the idea was cancelled and the truck remained silver and blue.
In 2014, the truck won its second World Finals Racing Championship.
In late 2015, during the 2016 Monster Jam season kickoff, Adam showed he moved to Team Grave Digger.
In 2016, Adam moved to Grave Digger. The truck's chassis was converted to Grave Digger 32 for 2017. Grave Digger the Legend was put on hold.
In 2017, the truck was displayed at the Monster Jam World Finals 18 on a Grave Digger chassis, as Retro Grave Digger (Blue).
In 2019, the truck is featured in the videogame Monster Jam Steel Titans, even though it has been on hold for nearly 3 years.
World Finals Appearances
2011 - Adam Anderson
2012 - Adam Anderson
2013 - Adam Anderson (won racing)
2014 - Adam Anderson (won racing)
2015 - Adam Anderson
2017 - Adam Anderson (encore only)
Trivia
Gallery
Community content is available under
CC-BY-SA
unless otherwise noted.