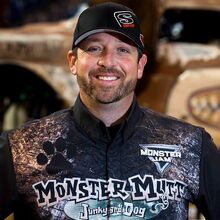 Dustin Brown is a driver out of Tampa, Florida. Dustin's career in monster trucks began in 2005 as he became the new crew chief for Dennis Anderson's Grave Digger and continued until 2013. Between then he drove trucks on several occasions as fill-in until in 2013 he began competing full time in Wolverine. He then moved to Iron Man in 2014. In 2015 for the Fox Sports 1 Championship Series he drove Monster Mutt winning three freestyle events and appearing in his first Monster Jam World Finals as finishing in the top three. In 2016, he drove a new truck called Monster Mutt Junkyard Dog for the Fox Sports 1 Championship Series.
In 2017 he did not appear as a regular driver. He did however, appear in 2018 as a fill-in driver for certain trucks.
He currently works as an event coordinator for Monster Jam.
World Finals Appearances
2013 - Wolverine (YGS)
2015 - Monster Mutt
2016 - Monster Mutt Junkyard Dog
Accomplishments
2013 Monster Jam Rookie of the Year Award
2015 Monster Jam Rising Star of the Year Award