Dragon

Dragon in 2018

Owner

FELD Motorsports (Name and Primary chassis), Migues Motorsports (Secondary chassis)

Driver

John Zimmer, Darren Migues

Body Style

Custom Dragon (formerly 1954 Corvette Pro Mod)

Engine

540ci Merlin

Transmission

Coen 2-Speed

Tires

BKT

Debut

2014

Theme Song

(Debut) Vertigo- Epic North (Competition) Breathing Fire- Outloud
Ice Dragon

Ice Dragon circa 2019

Owner

FELD Motorsports

Driver

Jon Zimmer

Body Style

Custom Dragon

Engine

540ci Merlin

Transmission

Coan 2-Speed

Tires

BKT / 66" Terra

Debut

2019

Theme Song

Breathing Fire- Outloud
Dragon is a custom dragon-shaped monster truck driven by Jon Zimmer and Darren Migues, which made its debut in East Rutherford 2014. Dragon also participated in the 2014 Australian tour.
In 2019, a second Dragon debuted on Nitro Menace, being Dragon (Migues).
History
Dragon was announced to begin competing in 2014; however, the truck wasn't completed until June of 2014, so Liddycoat drove Dragon's Breath  for the first half of 2014. The truck officially debuted on June 14th, at MetLife Stadium being driven by Charlie Pauken. It made one hit, tripped on an obstacle, and rolled. It would return for a full exhibition freestyle the following week at Gillette Stadium, once again under Pauken. The body would be sent to Australia on the Dragon's Breath chassis.
Dragon began its first full season in 2015. Liddycoat would get invited to the 4th Young Guns Shootout in 2015.
In 2016, Liddycoat would return for the 5th Young Guns Shootout, this time, he would go on to be the Young Guns Shootout Champion and take the 32nd slot in the Monster Jam World Finals 17.
In 2017, Former Grave Digger driver Jon Zimmer debuted a second Dragon on the former Monster Mutt Junkyard Dog chassis and competed on one of the Monster Jam Stadium Tours. Scott Liddycoat only competed in international events as his Dragon chassis is stuck in Australia. He said that he would return for the World Finals that year, although this wouldn't happen. The truck though did compete at the said show with Zimmer behind the wheel.
In 2018, Jon Zimmer received a new chassis, the former Grave Digger 26, and competed in one of the Monster Jam Stadium Tours. Liddycoat doesn't run for the year. In Frankfurt, Germany, the truck unveiled a brand new 3D Dragon shaped body. At the Licensing Expo 2018 in May, an Ice Dragon truck was revealed for 2019's Fire & Ice.
In 2019, the Ice Dragon is run on Monster Jam Stadium Championship Series 3 as part of Fire & Ice driven by Zimmer, finishing in second place. Darren Migues would drive the standard Dragon on Nitro Menace.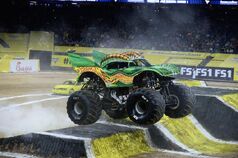 Versions of Dragon
Standard Corvette (2014-2018)- The former standard version of Dragon. It was a modified 1954 Corvette Pro Mod body with added on 3D horns, spikes, nostrils, and wings. It had dark red horns, and a bright green coloration to it.
Red Dragon- A cancelled version of the Dragon truck, intended to debut at the Monster Jam World Finals 16 encore alongside the Blue N.E.A. It would have been, for the most part, the same as the green version, albeit with a red color palet, and golden horns that pointed upwards. The Dragon Blast playset originally featured the red dragon as the target to jump at, with Grave Digger and the Green Dragon using two ramps to crash at it, which was later changed to just be Grave Digger jumping at a target of the Green Dragon.
International Tour Dragon- This version was used by Scott Liddycoat in the 2017 International tour. It had green wheels, and featured golden horns.
Standard 3D (2019-)- The current standard version of Dragon. It features a rounder, 3D shape similar to Monster Mutt, in order to allow for better vision. It features a new design for the horns, as well as a 3D mouth.
Ice Dragon- Ice Dragon runs the same shape as the new Standard Dragon, but it features an icy blue paint scheme and blue wheels. It has ice dripping from the wings, and frost has been added to be shooting from its nose.
World Finals Appearances
2015 - Scott Liddycoat (YGS)
2016 - Scott Liddycoat (YGS: Scott Liddycoat) (wins the YGS)
2017 - Jon Zimmer
2018 - Jon Zimmer
2019 - Jon Zimmer (ICE)
Trivia
The 3D Dragon mold is an edited version of the body that the three Monster Mutts currently use.
It was intended to debut in early 2014, but with the body incomplete, it had to run as Dragon's Breath.
As of 2019, the regular Dragon's chassis is independently owned.
In pit parties, the truck has eyes on the windows, although they are removed from the truck in actual competition for visbility.
Gallery
Merchandise