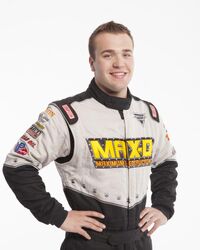 Colton Eichelberger was born in Paxton, Illinois and is the step son of Tom Meents. Eichelberger has always been involved in sports and motor sports. In 2015, Colton drove Grave Digger in the #MoreMonsterJam tour. Colton finished second in the series, giving him a spot in World Finals 16. In 2016, he drove the gold Maximum Destruction in the West More Monster Jam tour, finishing second and getting an invatation to World Finals 17. In 2017, he was part of both the East More Monster Jam tour and the East FS1 Championship Series, where he filled in for Tom for part of the tour and would have the run of his career in Houston. He would once again drive Tom's truck at World Finals 18. In 2021, Colton would be driving Outlaw.
World Finals Appearances
2015 - Grave Digger
2016 - Max-D
2017 - Max-D
2018 - Max-D
2019 - Max-D (Speedster)
 All-Star Challenge Appearances
Gallery
Community content is available under
CC-BY-SA
unless otherwise noted.