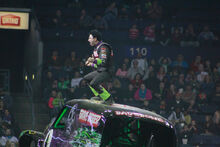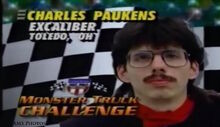 Charlie Pauken is a monster truck driver who is most famous for piloting Grave Digger 27 and his signature "Chuckie Dance" he does after winning or getting out of his truck sometimes. Charlie Pauken also has a son (Chuckie Pauken) who does different motor sports.
History
In 1987, Pauken started driving Excaliber. Ten years later, he sold the monster truck and joined team Grave Digger.
In 2000, he was invited to drive Nitro Machine at the inaugural World Finals. In 2002, he drove a few shows in Firemouth, including Jacksonville, where he won racing. Firemouth was at the World Finals that year, but Carl Van Horn drove it.
In 2001 Charlie Pauken was added to the roster of Team Grave Digger drivers and remains piloting Grave Digger to this day, even competing in the Fox Sports 1 Championship Series in 2015.
At a show in Montreal, Canada, in 2005, Pauken drove Taz because no driver had been chosen yet. He tied with Bounty Hunter and Maximum Destruction for the freestyle lead, but lost the cheer-off. The following year, he made his second World Finals appearance, this time driving Monster Mutt. He also drove Batman at the Monsters on Mainstreet event in Sylva, North Carolina, and won the freestyle event at that show.
In 2007, driving Monster Mutt, Pauken was shown on the World Finals 7 DVD box, showing him launching the truck over an ice cream van perched on top of a stone ramp.
In 2010, Pauken won his first freestyle championship driving Monster Mutt.
In 2012, he was chosen to drive Monster Mutt in the inaugural Path of Destruction Tour.
In 2015, he would finish forth in the Monster Jam FS1 Championship Series, getting him an invite to the Monster Jam World Finals 16.[1]
In 2017, he would finish first in Stadium Tour 4, getting him an invite to the Monster Jam World Finals 18.[2]
In 2018, he would finish first in Stadium Championship Series 2, getting him the first invite to the Monster Jam World Finals 19.[3]
World Finals Appearances
2000 - WCW Nitro Machine
2006 - Monster Mutt
2007 - Monster Mutt
2008 - Monster Mutt
2009 - Monster Mutt
2010 - Monster Mutt (won freestyle)
2011 - Monster Mutt
2012 - Monster Mutt
2013 - Monster Mutt
2014 - Monster Mutt
2015 - Grave Digger
2016 - Monster Mutt
2017 - Monster Mutt
2018 - Grave Digger
References