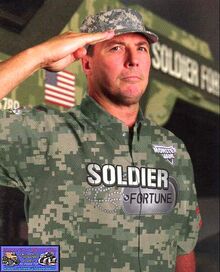 Chad Fortune is a driver out of Valparaiso, Indiana. Before monster trucks, Fortune played professional football and was even a professional wrestler for a period, wrestling as a member of Tekno Team 2000 for World Wrestling Entertainment. This would bring him to his first appearance with Monster Jam, with Fortune serving as the "spokesman" for the NWO truck, although he never drove it (Rob Knell drove the truck). Chad was originally meant to drive the cancelled WCW Bret Hart monster truck, but was too tall to fit inside the shrunken roll cage and thus the idea was nixed. He instead began his career driving WCW Nitro Machine in November of 2000 until its retirement, appearing on TV once in Minneapolis.
From 2002-2004, Fortune piloted the Karl Malone-backed Power Forward, even getting two World Finals appearances. Midway through the 2004 season, Fortune drove the Ameriquest Freedom truck for a short period of time after Carl Van Horn was chosen to replace him as the driver of Power Forward. By 2005 he was piloting Superman which was his longest running identity, spanning him from 2005-2012.
2012 saw Fortune switch from DC to Marvel as he piloted Captain America until 2015 when he would debut Soldier Fortune. In 2016, he drove in the Fox Sports 1 Championship Series. He would later be said to have retired from driving temporarily in 2019 but returned in 2020 and would be scheduled for the International Tour, but all events would eventually be cancelled due to the COVID-19 pandemic. The future of Chad's monster truck career is currently unknown and it is uncertain if he will continue to drive for Monster Jam.
Trivia
At certain events during intros, Chad would come out onto the arena floor dressed as Clark Kent, before "sensing danger", taking off the suit and a pair of glasses to reveal his Superman firesuit, and running behind the wall protection before a Clear Channel driver drove the Superman truck into the arena. Then Chad would climb up, and then stand on the top of the protection whilst facing the truck. Other events used pre-recorded video of Chad doing the routine in a different way: he'd start out in a "office" (probably a closet at a Clear Channel office) before "sensing danger" and taking off his Clark Kent costume to reveal the Superman firesuit, and then running out the hallway.
In 2019, he returned to Superman as part of a display for the truck during a visit by Shaquille O'Neil to FELD studios. He was present as the driver.
World Finals Appearances
2002 - Power Forward
2003 - Power Forward
2005 - Superman
2006 - Superman
2007 - Superman
2008 - Superman
2009 - Superman
2010 - Superman
2011 - Superman
2012 - Captain America
2013 - Captain America
2014 - Captain America
2015 - Soldier Fortune
2016 - Soldier Fortune
2017 - Soldier Fortune
Gallery