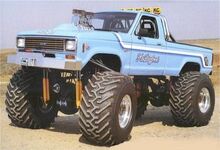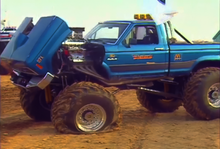 Bigfoot Ranger (originally Miss Bigfoot) was a lifted Ford Ranger driven by Marilyn Chandler and debuted in 1985.
The truck was originally built with Marilyn's involvement, as she expressed more interest in the team than day to day operations. It was going to be a street legal truck that she could take to promotional events and parades. While it was being constructed, Bob was talking to Alan Root. Because of this, it would become more of a hot rod 4x4 than a street-able Bigfoot, sporting a 571 CI Engine.
The secondary purpose of the truck was to be a training vehicle, similar in nature to the Bigfoot Shuttle. It would help upcoming drivers get used to rear steering and the higher center of gravity.
It was put in the Bigfoot line of McDonald's Happy Meal toys.
Due to Ford's urging, it was painted a darker blue to match the rest of the Bigfoot team but given different graphics and renamed to help support the line of Ford Rangers. At the Indy 1988 Jamboree, Ken Koelling would take it for a rather aggressive and bouncy run, known at Bigfoot as the "Ranger Dance".
It would not be used as often as Bigfoot would use 4, 6, and 7 to train newer drivers and was sold in 1993 to Chandler Lloyd, who would use several major components to build Lil' Truck.
The Ms. Bigfoot name was revived twice, once for the Charlies Angels movie, and the 35th Anniversary with Amber Walker driving.
The Bigfoot Ranger is being restored and the truck was displayed in its current condition at the Bigfoot Open House on September 25th, 2021.