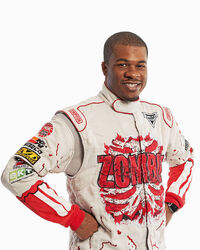 Bari Musawwir was born on November 6, 1980 in Cleveland, Ohio. Bari now resides in Orlando, Florida and he is currently driving the Zombie monster truck. Musawwir is also a skilled RC racer. He is best known for his time in Spider-Man, as well as for being the first African American driver to drive for FELD (Mark Taylor was the first African-American to drive in Monster Jam, but not for FELD as he drove Mountaineer for Robby Gray, and there may have been African-American monster truck drivers before them.)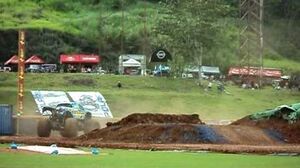 Monster Truck Career
Musawwir was competing with RC monster trucks in 2006 when Monster Jam gave him a test session, although the tests were successful, he wouldn't be testing again until 2008. Musawwir tested with FELD Motorsports to drive a Monster Jam truck in 2010. The tests were successful, and he was slated to drive Backwards Bob in Panama of 2010. In 2011, he began his first season by driving El Toro Loco. In 2012, Bari would be put into the Spider-Man truck, which he would drive until 2014. Bari won the first every Young Guns Shootout in 2012, and he has competed Monster Jam World Finals 14 and World Finals 15. In 2015, Bari was put into the Zombie monster truck and competed in the first Fox Sports 1 Championship Series. He wouldn't place in the top 4, but, he was still invited to compete in World Finals 16. He was also invited at World Finals' 17-20. At the 2019 Monster Jam World Finals he crossed the finish line first but he got a red light leaving early giving the win to Jimmy Creten and Bounty Hunter. No officials said to rerun the race, very likely because he had been forgiven a red-light in the semifinals.
World Finals Appearances
2012 - Spider-Man (YGS) (Won YGS)
2013 - Spider-Man
2014 - Spider-Man
2015 - Zombie
2016 - Zombie
2017 - Zombie
2018 - Zombie
2019 - Zombie (Fire)
All-Star Challenge Appearances
2019 - Zombie Fire (Team Fire).
Accomplishments
2011 Rookie of the Year
2012 Young Guns Shootout Champion
Most donuts in a minute (44)
Most donuts consecutively (58)
Gallery
Community content is available under
CC-BY-SA
unless otherwise noted.