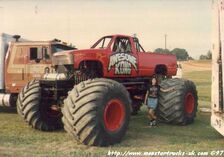 Awesome Kong was a series of monster trucks owned by Jeff Dane out of Killeen, Texas, mostly the same truck rebuilt multiple times.
Awesome Kong II (which is actually King Kong 2) started as a Ford Flareside with an aircraft engine in the bed of the truck. It was best known for its appearance in Return of the Monster Trucks, almost beating Bigfoot. This truck would be rebuilt a few times, sporting a regular Ford F-Series body in both yellow and in red. Its last version being the dune buggy look before being torn apart to build other trucks.
The slim Awesome Kong ran primarily in the TNT series until major rule changes and a concern for driver safety caused the truck to be overhauled yet again. It ran a yellow body on only a few occasions.
Gallery