Avenger

Avenger circa 2019

Owner

Team Scream Racing

Driver

Jim Koehler

Body Style

1957 Chevrolet Bel-Air

Engine

Blown 575 Chevrolet Big Block

Transmission

Coan/Bewick Turbo 400

Tires

66" Terra / BKT

Horsepower

1800

Debut

1997

Theme song

Various: currently "Let Me Hear You Scream" by Ozzy Ozbourne, but also "Meaning Of Life" by Disturbed, "In The Flood" by Throttlerod, and "Self Esteem" by The Offspring (Monster Jam & Monster Truck Throwdown)
Avenger
is a 1957 Chevy Bel Air monster truck driven by
Jim Koehler
and is the flagship truck for the
Team Scream
Racing camp based out of Columbus, Michigan. Avenger is perhaps most famous for its unique bodies which have been ran at every
Monster Jam World Finals
since 2004. Koehler is the only driver that has competed in every World Finals since 2000.
History
Avenger was first created in 1997 with a Chevy pickup body in which Jim Koehler campaigned with until after a wild crash in New Orleans 2000, which led to him putting a brand new Chevy S10 body on the truck. This incarnation of Avenger ran until mid 2002 where he created the Nomad/Bel Air body he runs to this day.
In 2002, Jim Koehler debuted a brand new 1957 Chevy Bel Air body for Avenger which was the most successful version of the truck, claiming his first Monster Jam World Freestyle Championship in 2003. Koehler continued to run this version until 2008 when he debuted a new, lighter schemed Avenger and a new chassis.
In 2004, Avenger ran a special orange paint scheme at the Monster Jam World Finals 5. This would start its World Finals tradition wherein the truck runs a special body for every installment of the event. However, in his freestyle run, after his second hit, he bent the four-link bar, causing the transmission to break.
In 2005, Koehler ran a special half dark green and half orange (from last year) paint scheme for Monster Jam World Finals 6, and during his freestyle run, he clipped into the tire of an abandoned Grave Digger on the trailer, causing his run to end. However, he jumped into the pool obstacle after his run. This will start its tradition wherein Koehler jumps into the pool after his run.
In 2006, Koehler ran a chrome paint scheme for Monster Jam World Finals 7, and during his run, he lawn-darted over the pool obstacle.
In 2008, Koehler debuted a more light green version of Avenger on a brand new chassis built by Koehler, while Chris Bergeron received a new chassis built by Pablo Huffaker and Racesource. This truck was more stable and racing oriented than his previous Avenger, but still a freestyle machine at heart, which he proved by winning multiple freestyle events such as Minneapolis 2008.
In 2009, an Australian Avenger debuted. It was also driven by Koehler. It later won the South Pacific World Finals freestyle championship in 2009 and 2010.
In 2011, Koehler won Avenger's second World Freestyle Championship title at the Monster Jam World Finals 12
In 2015 and 2016, Avenger takes part of the Fox Sports 1 Series.
In 2017, Avenger celebrates its 20th anniversary with a special throw-back body that resembles the Chevy S-10 body from 1999-2001. Jim and the truck competes in the East Coast Fox Sports 1 Series. At the World Finals, fans are shocked as Jim and Avenger make it to the semi-finals, but lost to
Ryan Anderson
and
Son-uva Digger
. Jim would also get third place in freestyle.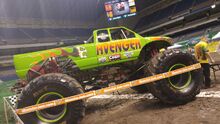 A brand new chassis, built by
Cory Rummell
, is debuted at the World Finals and Jim has his longest run in the racing bracket, going all the way to the semi-finals. The 2008 chassis becomes
Wrecking Crew
/
Axe
.
In 2018, Jim competed in one of the Monster Jam Stadium Tours with the original Bel Air body back. Jim drove Avenger at the Monster Jam World Finals 19, where he crashed on his first hit. He brought the blue Bel Air body back for the Wildwood, NJ show, taking 2nd place overall.
Trivia
With its first championship at World Finals 4, Avenger is the only truck to finish last place both the year immediately proceeding and following the same year winning a championship (in the case of the latter, tying last with Blue Thunder and Team Suzuki at Monster Jam World Finals 5).
Avenger is the only truck to compete at every single Monster Jam World Finals (including the Motor Madness World Finals "0") while being driven by the same driver.
Avenger has won the "Extreme Air of the Year" at the World Finals 6 years in a row from 2011-2017. The streak would be ended by Rosalee Ramer (Wild Flower) in 2018.
"Avenger" was also the name of Jim Koehler's Dad's Drag Racing car, and Jim decided to continue the Avenger name by naming his monster truck after his car.
Now retired Corey Clark drove the truck a few times in Australia.
YouTube ganged some minor controversy in 2016 after several amateur videos of Avenger's World Finals 17 freestyle were muted out due to copyright reasons due to the song that was playing during Avenger's freestyle. At least six videos were muted out by YouTube. One of these videos was a full freestyle compilation uploaded by YouTube user TLITD31. When the video was originally uploaded, YouTube muted the entire video solely due to Avenger's freestyle, so the user had to re-upload the video with Avenger's freestyle clip self-muted out. The blocked out song was Let Me Hear You Scream by Ozzy Osbourne.
Avenger was the first ever non-FELD owned truck to win a World Finals championship. Jim Koehler won the freestyle championship at Monster Jam World Finals 4.

On top of this, Avenger is the only Non-FELD truck to win more than one World Finals Championship.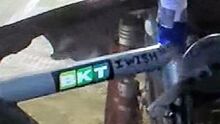 At the Monster Jam World Finals 16, Avenger had an onboard shot of the chassis, with a BKT sticker in front for sponsorship purposes. Jim didn't have BKT tires on the truck yet, and as some funny humor, next to the BKT sticker, he wrote "I WISH".
Body Styles
World Finals
2000 - 1994 Chevy
2001 - Dark Green S-10 (had the #3 flag in honor of former NASCAR driver Dale Earnhardt Sr. who passed away in the Daytona 500 1 month before the world finals).
2002 & 2003 - Dark Green Bel-Air (won its first World Freestyle Championship in 2003 with this version)
2004 - Orange Avenger
2005 - Orange/Green Avenger
2006 - Chrome Avenger
2007 - Toxic Green Avenger
2008 - Light

Green Avenger

2009 - Light Blue Avenger
2010 - Flat Black With White Flames Avenger
2011 - Candy Apple Red Avenger (won its second World Freestyle Championship with this version)
2012 - Yellow With Red Flames Avenger
2013 - Dark Red with different colored pin striping Avenger
2014 - Purple Avenger
2015 - White Avenger
2016 - Hand painted "Junkyard Blue" Avenger with rust
2017 - Dark green retro S-10 body with chrome logo
2018 - Green Custom Nomad Avenger
Other Special Bodies
1997-2000 - 1994 Chevy
2000-2001 - Dark Green S-10
2002-2003 - Dark Green Bel-Air
2003-2004 - Avenger occasionally runs the S-10 pickup truck body.
2004 - The Orange body from Monster Jam World Finals 5 is run in October for a show taking place on Halloween.
2009 - Avenger runs a Neon Teal body for the Monster Mash tour.
2009 - Avenger runs an alternate green body with a Fig Newton Sponsorship.
2015 - Avenger runs a "Rockin' 0 Points!" body for the Fox Sports 1 Championship series.
2015 - Avenger Re-Runs the Aqua Blue Avenger from Monster Jam World Finals 10, but the paint job is slightly different.
2016 - Avenger runs a "Rockin 50 Years!" body for Jim Koehler's Birthday.
2016- Avenger Re-Runs the Aqua blue Avenger again.
2017 - Avenger runs a 20th anniversary S-10 body (same color as the standard Avenger, in contrast to the WF18 body which is darker green).
2018 - The 20th Anniversary design is run on very few occasions.
2018- The 2016 "Junkyard Blue" design is run for few occasions.
2018- The Light Blue Avenger returns again.
World Finals Appearances
1999 - Jim Koehler
2000 - Jim Koehler
2001 - Jim Koehler
2002 - Jim Koehler
2003 - Jim Koehler (won freestyle)
2004 - Jim Koehler
2005 - Jim Koehler
2006 - Jim Koehler
2007 - Jim Koehler
2008 - Jim Koehler
2009 - Jim Koehler
2010 - Jim Koehler
2011 - Jim Koehler (won freestyle)
2012 - Jim Koehler
2013 - Jim Koehler
2014 - Jim Koehler
2015 - Jim Koehler
2016 - Jim Koehler
2017 - Jim Koehler
2018 - Jim Koehler
2019 - Jim Koehler
Gallery
World Finals Designs
Merchandise