Alex Blackwell is a monster truck driver, born on June 2nd, 1973 out of Frackville, Pennsylvania and currently lives in North Carolina. Alex has been competing since 2005, most famous for formerly driving Captain's Curse, and now driving Megalodon. Alex notably has a big passion in monster trucks and always loves to drive them, and usually has a good time doing so. Alex's driving style usually doesn't involve him making a plan, but rather just winging it. Alex has also commonly driven a lot of occasional or temporary trucks throughout his career.
History
Blackwell originally was involved with professional motocross, until 2001 where he got injured and eventually retired from competitively driving motorcycles. Alex worked at an electrical shop in the early 2000s, where he would famously create the "Gazoo" rear-steer motor, which made the rear steer activate about 2 and a half times quicker than it did before. This motor is still commonly used today in modern monster trucks.
A bit later in 2004, Alex would be contacted by Andy Slifko that he wanted one of his Gazoo motors to be used for his truck, Eradicator, which he did. He would then crew for the truck and help out with it. Then once at a show, he would be asked to test out the truck, which would be his first time inside driving a truck. According to Alex, after he got out of the truck, the first thing he thought was that he had to keep doing this, getting hooked onto driving monster trucks.
A couple months after so, he would meet Randy Brown in Baltimore and would begin working for him. About two months after so, he would quit his job at the shop and move to North Carolina, where he currently resides. His first full-time ride would come a few months later in 2005, where Randy Brown was given a new Teenage Mutant Ninja Turtle chassis after selling a Pure Adrenaline chassis, where Alex was offered to drive the truck full-time. He would go on to drive the truck at shows throughout 2005 and later in 2006. He would also make a few major stadium and televised appearances on the SPEED channel. Also during 2006, Alex would meet Jon Zimmer, which the two would become really good friends. In 2007, he would continue to drive TMNT, though he would begin working for FELD, later being placed behind the wheel of Bulldozer that year and would drive it at a good amount of shows at the time. He would also drive Sudden Impact for a few shows.
In 2008, Alex Blackwell's calling would come after being offered to drive Captain's Curse, the 2007 World Finals freestyle champion truck which was driven by Pablo Huffaker. The truck would become Alex's signature and arguably most famous ride, becoming his main and very own identity at the time. Alex also said he loved to truck when first seeing it and using it, liking the old-school design and also appreciating the truck's small cab. He would mainly run arena shows during the year, but would unexpectedly be invited to World Finals 9, not just from his success in truck, but also after Pablo Huffaker would be unable to defend his freestyle title. Alex would be the big surprise of the event, being the second faster qualifier, making it the semi-finals of racing and losing a tight race against John Seasock in Batman who would eventually win the title, and putting on a great freestyle run and getting a score of 29 where he would make 3rd place and end up in 6th place at the end of the night, all of this happening during his World Finals debut. Alex said that he had absolutely no complaints with how the weekend went for him.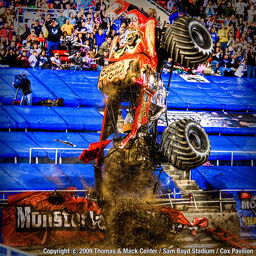 In 2009, Alex would begin running major televised stadium shows during the year, and he would get an invite to World Finals 10. During the event, he would be very successful during racing and would make it to the championship round of racing against Tom Meents in Maximum Destruction. It was a seemingly normal race at first, but right as he was approaching the turn, his brakes would bleed and eventually go out and when he hit the brakes to stop the truck, he got nothing. He instantly thought quickly and decided to roll to the truck to slow it down and prevent it from hurting anyone. Doing so, the truck flew across the rest of the stadium before hitting the safety barrier and landing on it. Thankfully, no one, including Alex, was hurt. According to Alex, his main concern with the crash was not that he had lost the title to Tom, but rather if anyone was injured and he said he was very relieved when learning no one was hurt. The truck, however, was in very terrible shape and was destroyed in the crash. The crash would notably be omitted from both the SPEED broadcast and the DVD release to avoid any more controversy after two unrelated incidents. Despite not winning, Alex said that he's very thankful with how the crash ended up, considering how much worse it could've been, and the crash would become known one of the most famous and also violent crashes in monster truck history.
In 2010, Alex would continue to drive Captain's Curse and would make his third World Finals appearances. Though before that, at the debut show of the Cowboy's Stadium (now known at the AT&T Stadium), Alex would win the freestyle competition, becoming the first freestyle winner in that facility, becoming one of Alex's biggest career wins. Alex would also notably be upset a few shows later at World Finals 11, a year following up his runner-up spot at World Finals 10, where he was beaten in Round 1 by Steve Sims in Stone Crusher to which he would later accidentally run and crash into one of the obstacles after the race, having two concecutive racing crashes as a result. Alex also drove Taz at its final show in Mexico City where it would win racing. In 2011, at the Lincoln Financial Field in Philadelphia, Pennsylvania, Alex and Captain's Curse did a halftime performance before the freestyle competition where he was tasked to do a bunch of non-stop donuts for the Juvenile Diabetes Research Foundation where $500 were donated to them each time he did one. He ended up doing an impressive 39 donuts before the transmission started badly heating up and he raised a good $19,500 to the foundation.
In 2012, unlike the previous years, Captain's Curse was put on hiatus for the year, as Alex Blackwell was asked to drive the newly revived Wolverine truck for the season. He would be successful in the truck for the amount of time he was in it, making many televised appearances, as well as getting an invite to World Finals 13, where he would make it into the semi-finals of racing, but would lose to Damon Bradshaw in the, at the time, new Monster Energy truck. Pablo Huffaker also notably drove Captain's Curse at the same event, ironically losing to Alex in Round 2. Later at the end of 2012, Captain's Curse would return, though this time with a brand new inverted paint scheme, which Alex said he thought was cool. In 2013 through 2015, Alex would continue to drive the truck as his full-time ride, making many more World Finals appearances and would have a lot of success.
In 2016, a 3D successor to Captain's Curse debuted called Pirate's Curse. Pirate's Curse would compete on the 2016 FS1 Series, as Alex and Captain's Curse mainly ran on International shows throughout the year. He also notably didn't get a World Finals invitation, which has led to some fans speculating that Alex was the mysterious Doom's Day driver at World Finals 17. This is yet to be proven. At the end of 2016 in November, Captain's Curse ran at its final show and the truck was officially discontinued afterwards.
In 2017, Alex officially moved to the, at the time, new Megalodon truck, where he competed on Arena Tour 6, finishing in the runner-up spot only 10 points behind Carolina Crusher. He was notably and very mysteriously invited to compete at World Finals 18, instead of Justin Sipes, as he was dropped out of the line-up for unknown reasons. Even more strange is that Justin was actually present at the event, though not competing. Alex would make it to the quarter finals of racing, but would lose to BJ Johnson in Gas Monkey Garage. Alex would be first out in the freestyle competition with the new judging system, making him the first driver to ever be judged with Judgeszone.com. He would score a 6.799, ending in 23rd place. His close round one race against Candice Jolly in the Monster Mutt Dalmatian would also later be featured on the 2018 Yearbook cover as well as be used as Monster Jam's current YouTube banner.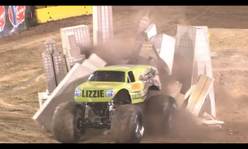 In 2018, Alex competed in Stadium Series 1, where Alex would finish in 4th place at the end of the series, though he wouldn't get an invitation to World Finals 19. He would, however, be invited to drive for the freestyle encore of the night, driving Lizzie for the Rampage encore. It would also be the 100th different truck to successfully perform a backflip. In 2019, he would be set for international shows for the year. He would drive Megalodon for those shows, as expected, though he did notably drive Pirate's Curse for a few select shows during the tour.
In 2020, just like last year, he was set for the international tour, however, all shows were cancelled because of the COVID-19 pandemic, and because of so, Alex would not be able to drive for the year. As of now, he has currently been on hiatus, and has not been set for any events so far. It's unknown when or if he'll return full time. However, in 2022, he returned to quickly fill-in an injured Mike Christensen in Vendetta at the last Stadium Series Yellow event at East Rutherford, NJ.
World Finals Appearances
2008 - Captain's Curse
2009 - Captain's Curse (crashed and couldn't freestyle)
2010 - Captain's Curse
2011 - Captain's Curse
2012 - Wolverine
2013 - Captain's Curse
2014 - Captain's Curse
2015 - Captain's Curse
2017 - Megalodon
2018 - Rampage (Lizzie) (encore freestyle only)
Gallery
Accomplishments
Inventor of the "Gazoo" rear-steer motor
2009 Monster Jam World Finals Racing Runner-Up
2009 Monster Jam Fan Appreciation Award (with Rod Schmidt)
2010 Monster Jam Team of the Year Award (with John Seasock and Batman)
First driver to win freestyle at the AT&T Stadium (formerly Cowboy's Stadium)
2017 Arena Tour 6 Runner-Up
2017 Monster Jam Arena Freestyle Award